If you have a Scrap car, many things can happen when trying to sell a scrap car: you have a vehicle that is not worth repairing or selling. It has been in an accident, it is too old, and you cannot afford the repair bills. You want to get rid of it as soon as possible without losing money. You may be thinking about scrapping your vehicle, but you need to know how much time you will need to find someone who wants to buy it. Which method to choose? We recommend you read this article and then decide.
Difference Between Private Selling And Scarp Car Removal
Car private selling is when a person sells their car without the help of a dealership or a car salesperson. When you sell a car privately, you are responsible for finding a buyer and completing the sale. It includes advertising the vehicle, negotiating a price, and ending the paperwork.
Several Benefits of Selling your Car Privately
You can be more flexible with negotiating the sale price. You are free to set the price accordingly and negotiate.
You can control the decisions during the entire process, from meeting to negotiation and closing the deal.
You get all the time to find the right buyer and deal for your old car.
On the other hand, the next option is scrap car removal. It can be a good option if you need help sell your car for cash without the traditional channels. If you have an old car you are trying to sell, consider contacting a scrap removal company. These companies are typically interested in buying old cars so they can scrap them for their metal value.
Benefits of Selling an Old Car to Scrap Car Removal Services include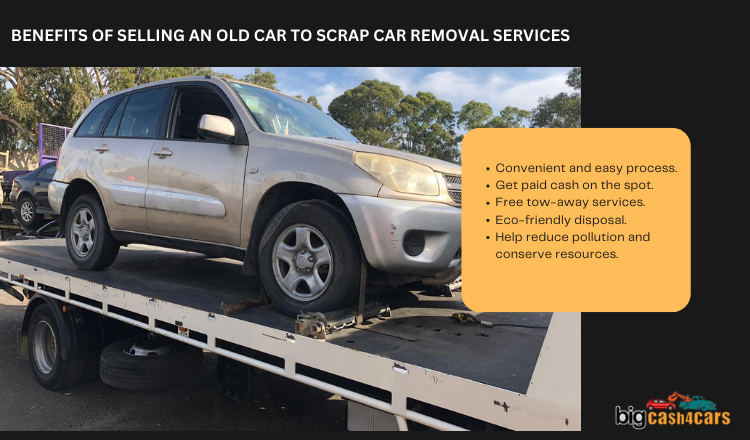 Convenient and easy process.
Get paid cash on the spot.
Free tow-away services.
Eco-friendly disposal.
Help reduce pollution and conserve resources.
How Do I Sell My Car in Melbourne By Private Selling?
Selling your privately means that you are going to take care of all the processes involved in it. Before you put your old car up for private sale, you will need to do a few things:
You will need to inspect the car to ensure it is in good working condition.
You will need to gather the car's maintenance records.
You need to remove all your personal belongings from the car.
You will need to clean the car inside and out to make it look its best. You should get the car serviced and painted before selling it to make it more attractive to buyers.
Finally, you'll need to advertise the car for sale.
How Do I Sell My Car in Melbourne Through a Scrap Car removal?
When selling your car in Melbourne, you should remove the license plates. The state will probably require that you get rid of these plates before you get rid of the vehicle. In addition, you should remove your belongings from the car. Once it is gone, you will not have a way to get it back. Selling your old and old car to a good car removal has many benefits. You do not have to worry about towing it to any place; their team will take care of it and offer you a reasonable price. If you follow these steps, you can get a good deal on your scrap car.
Which One is Best For You?
The main advantage of selling your junk car to a scrap car removal company is receiving cash for your vehicle. It is especially beneficial if you need money quickly. Contacting a scrap car removal company will be best if you have an old and abandoned car. In addition, these companies typically have a hassle-free process and tow your vehicle away for free. Contact cash for cars Melbourne-based company, now if you want to sell your car in Melbourne.
Big Cash For Cars Gives You The Best Old Car Removal Service
We are one of the top cash for cars Melbourne-based companies. You can find many old cars, trucks, vans, and other vehicles in Melbourne. They are not just taking up space in the garage but also creating environmental pollution. If you want to get rid of these old, unused vehicles, you should contact our company. We provide a quick and easy service for effective old car removal Melbourne. We know it is challenging to find a buyer for an old car. We will buy your old car quickly and pay you a reasonable price. We also give you free towing services. Our towing services are reliable, and our prices are affordable. So, if you have an old car that you want to dispose of, you should contact us. We guarantee you that you will have a good experience with us.